Rodeo Queen
Michigan High School Rodeo Association
MISS MICHIGAN RODEO QUEEN 2022/2023 | Charleigh Scott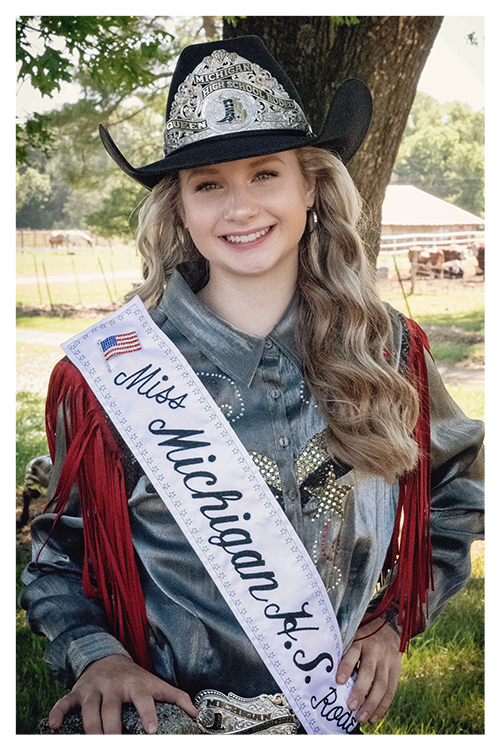 Hi! My name is Charleigh Scott, I'm your 2022-2023 Michigan High School Rodeo Queen. I'm a 16 year old sophomore at White Cloud Public Schools. I compete in Barrel Racing, Breakaway, Goat tying, and sometimes Poles. Goat tying is by far my favorite event, but it wasn't always. I was so intimidated by goat tying at first, but once I met some amazing friends through High School Rodeo they helped me realize how amazing that event really is.
I joined High School Rodeo my 8th grade year, I remember my first rodeo I was nervous, but everyone there was so kind they invited me to hang out with them and from that rodeo on I knew those people were going to be my lifelong friends. I hope that everyone can have the friendships like we do in High School Rodeo.
High School Rodeo has already given me so many more opportunities than I could have ever imagined. For example we get to travel all over the state but also to Nationals. It's truly something that I wish everyone could have the opportunity to do. Another huge opportunity that High School Rodeo gives you is scholarships. Even as a sophomore I have already received many scholarships. Also in High school rodeo you really learn about your horse and what your equine partner needs when able to talk to many of our parents and sponsors.
My horses are Copper and Rue. I rope and goat tie off Copper; he is the best horse I could ask for and will do anything for me. I run barrels and poles off Rue, he is a handful but I love him too.
Although, I come from a rodeo family I still understand how this great sport can look to an outsider. As the Michigan High School Rodeo Queen I will continue to gain knowledge to pass on to others. I am here to answer any questions you have.
Good luck to all the new or returning competitors this year. Let's make it another great one!