Since 1989
Living Our Western Heritage
The purpose of the MIHSRA Foundation is to provide a nonprofit 501C funding organization for those contributors who's goals are The Western Family Way of Life for the athletes who compete in the sport of rodeo in events such as; sport shooting, bull riding, bronc riding, calf roping, team roping, steer wrestling, barrel racing, pole bending, goat tying.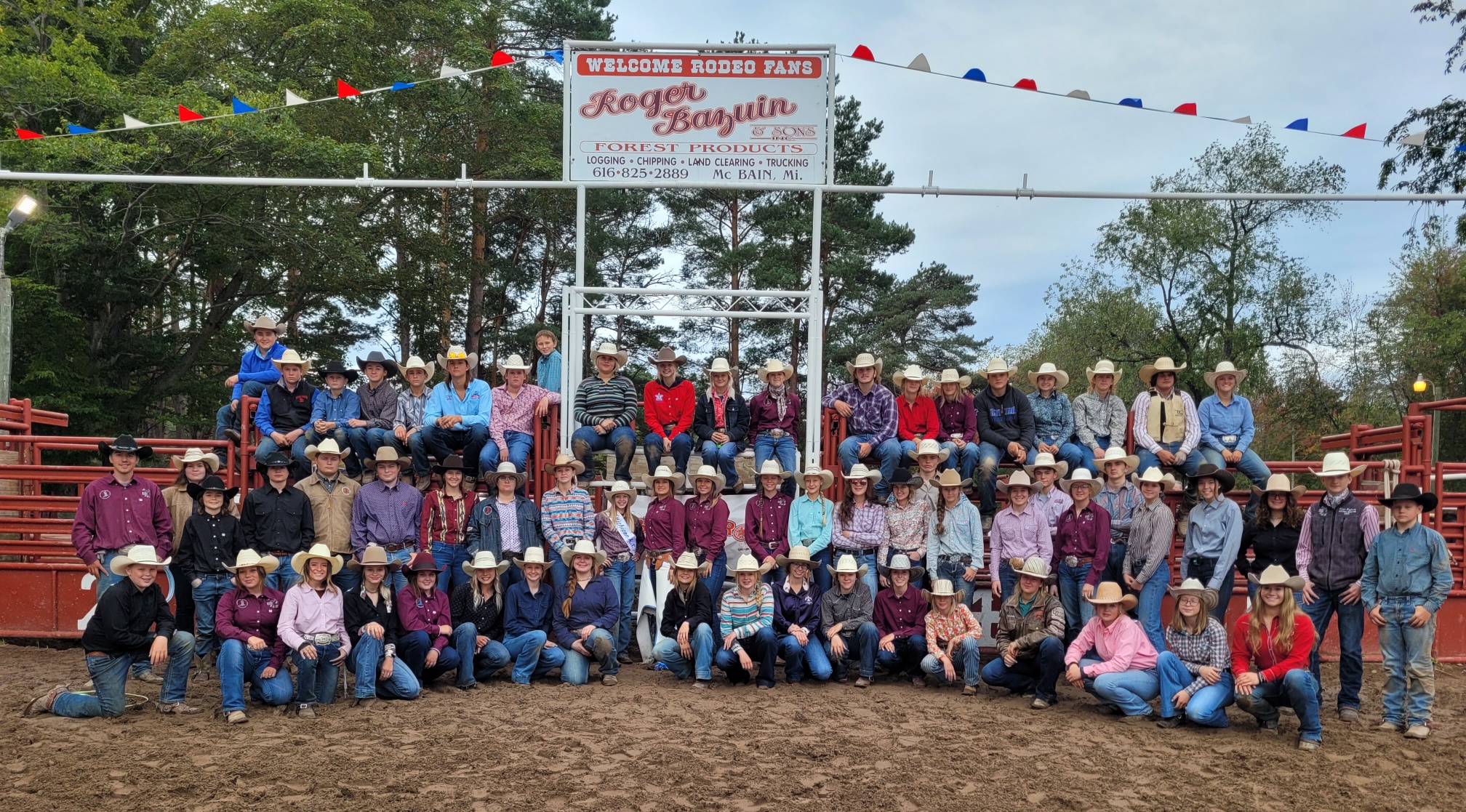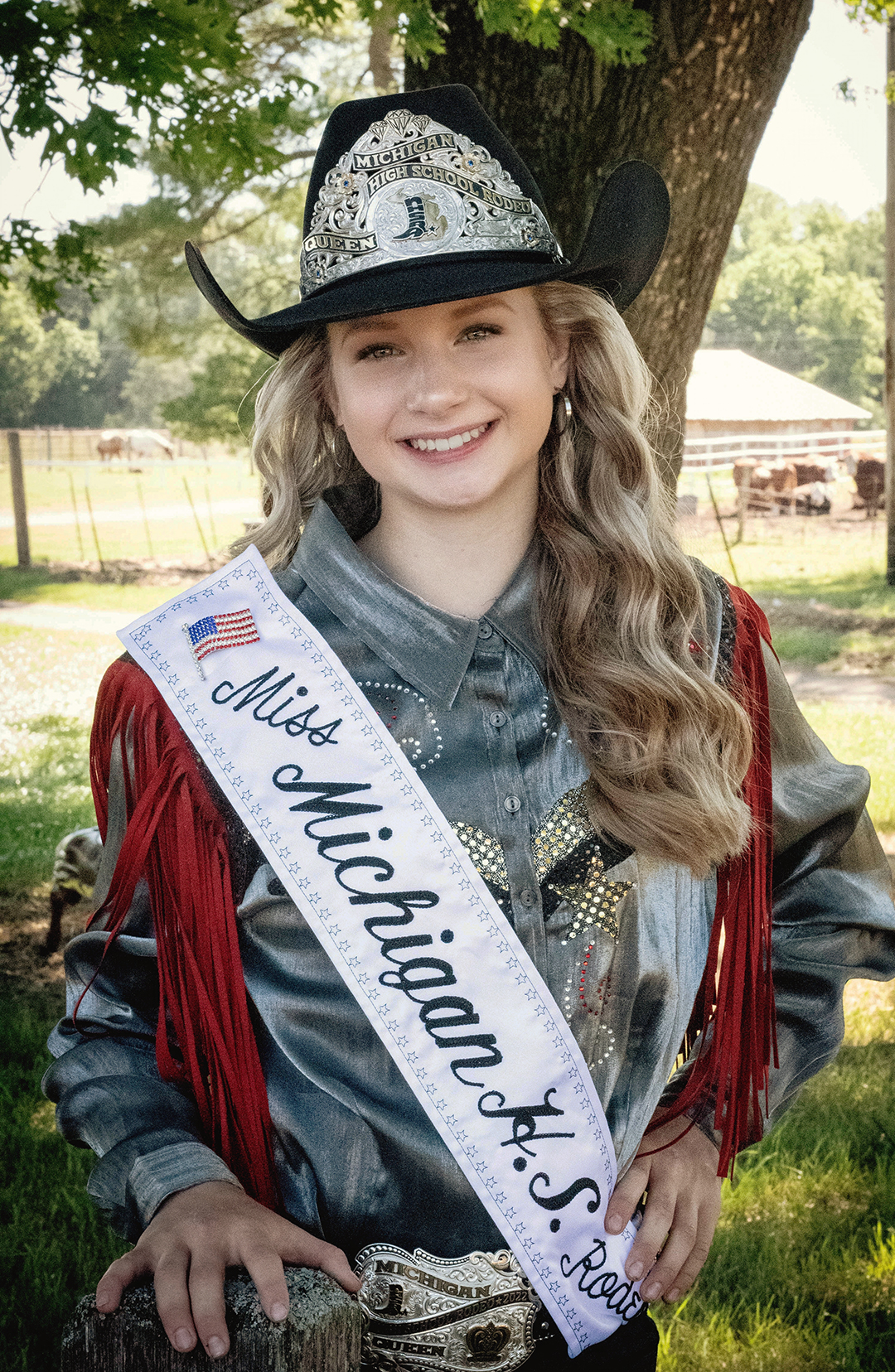 MISS MICHIGAN RODEO QUEEN 2022-2023
Hi! My name is Charleigh Scott, I'm your 2022-2023 Michigan High School Rodeo Queen. I'm a 16 year old sophomore at White Cloud Public Schools. I compete in Barrel Racing, Breakaway, Goat tying, and sometimes Poles.
Read More
Goat tying is by far my favorite event, but it wasn't always. I was so intimidated by goat tying at first, but once I met some amazing friends through High School Rodeo they helped me realize how amazing that event really is.
I joined High School Rodeo my 8th grade year, I remember my first rodeo I was nervous, but everyone there was so kind they invited me to hang out with them and from that rodeo on I knew those people were going to be my lifelong friends. I hope that everyone can have the friendships like we do in High School Rodeo.
High School Rodeo has already given me so many more opportunities than I could have ever imagined. For example we get to travel all over the state but also to Nationals. It's truly something that I wish everyone could have the opportunity to do. Another huge opportunity that High School Rodeo gives you is scholarships. Even as a sophomore I have already received many scholarships. Also in High school rodeo you really learn about your horse and what your equine partner needs when able to talk to many of our parents and sponsors.
My horses are Copper and Rue. I rope and goat tie off Copper; he is the best horse I could ask for and will do anything for me. I run barrels and poles off Rue, he is a handful but I love him too.
Although, I come from a rodeo family I still understand how this great sport can look to an outsider. As the Michigan High School Rodeo Queen I will continue to gain knowledge to pass on to others. I am here to answer any questions you have.
Good luck to all the new or returning competitors this year. Let's make it another great one!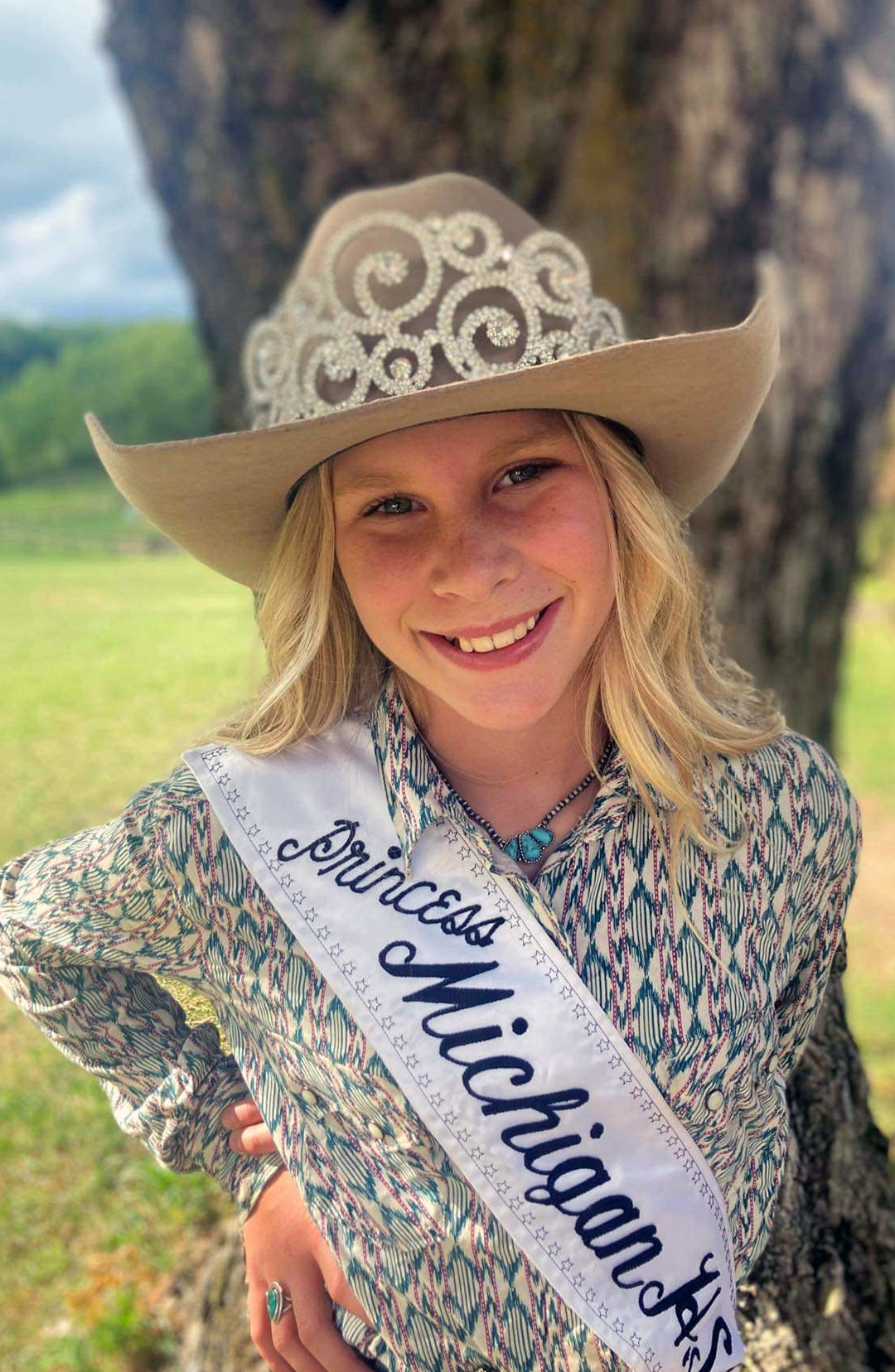 Miss Michigan Junior High Rodeo Princess 2022-2023
Hello my name is Lilah Judah and I am excited to be your 2022–2023 Michigan Junior high school Rodeo princess! I am a 12 year-old seventh grader from Manton, Michigan. I am homeschooled along with my seven other brothers and sisters.
Read More
This is my second year in Michigan high school rodeo and I compete in breakaway roping, goat tying, pole bending, barrel racing, and team roping.
When I'm not in the arena I enjoy skiing, going to church youth group, and hanging out with my friends and family!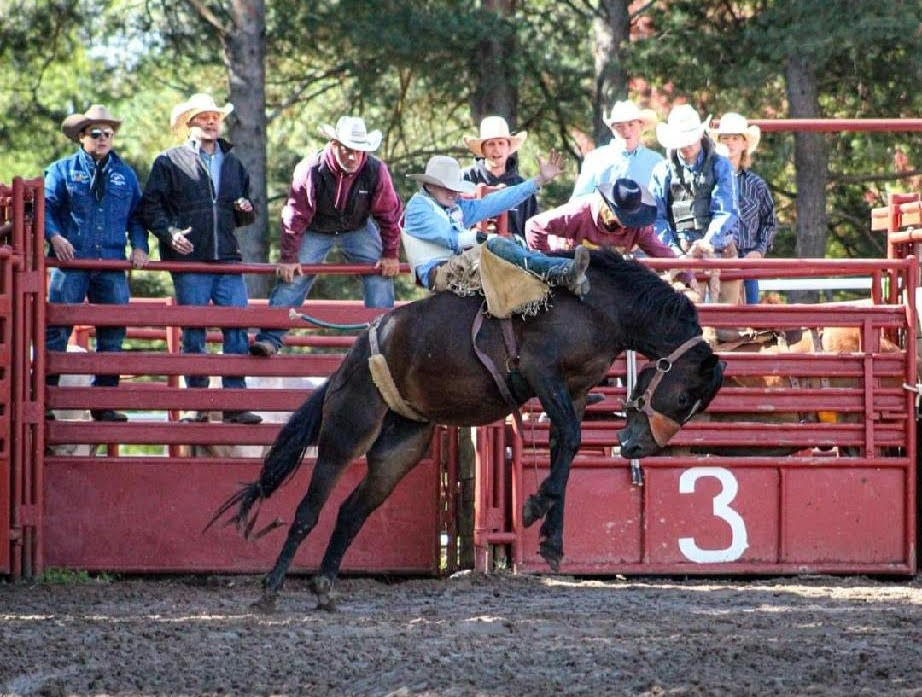 Saddle Bronc Riding
The saddle bronc is rated on how high he kicks, the strength and force of his bucking action, his reverses in direction, and for rolling and twisting action.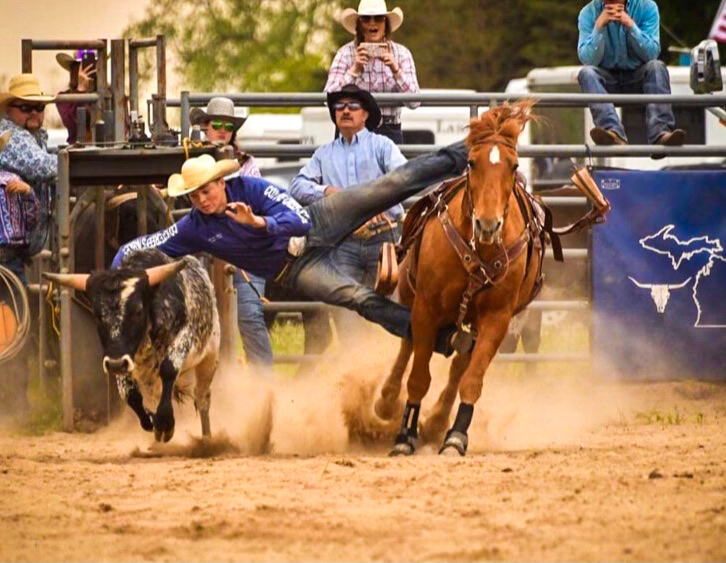 Steer Wrestling
The mounted steer wrestler is placed in a box behind a barrier; his hazer in a box on the opposite side of the steer. The steer must be given a head start. The point is to turn the steer back instantly so that its own momentum aids in wrestling it to the ground.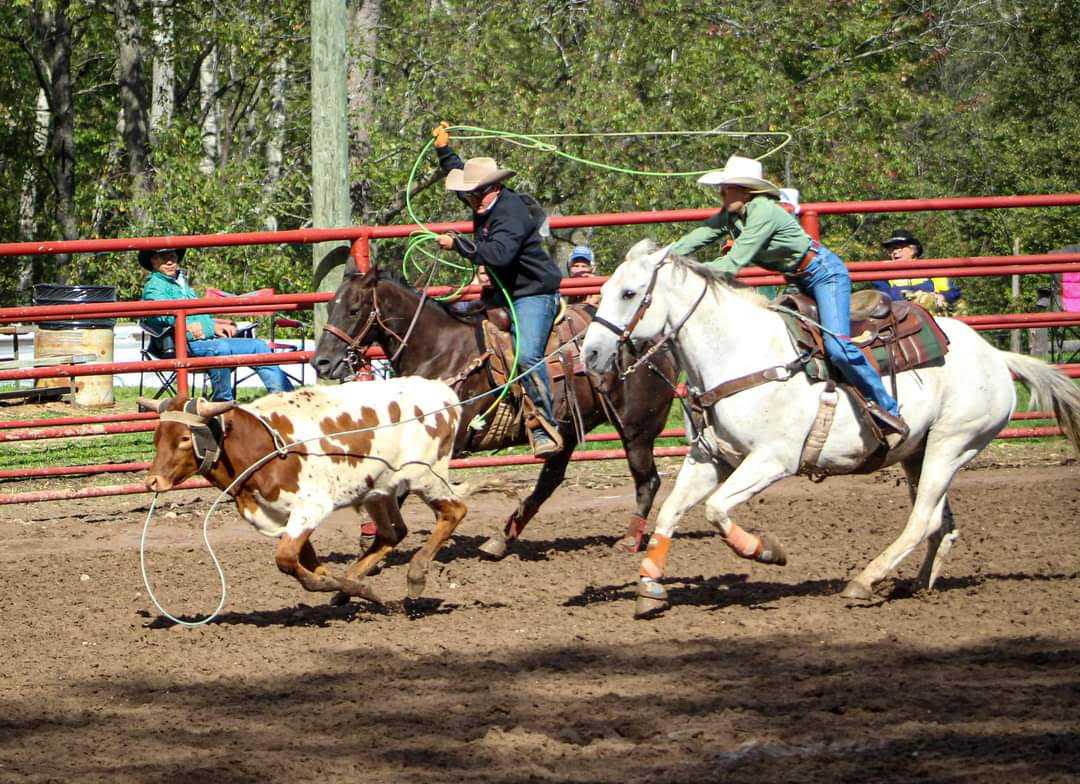 Team Roping
 In dally team roping, ropes are loose from the saddle horns, and after making the catch, the ropers must take a wrap around the horn. Time is taken when both ropes are tight and both horses are facing the steer.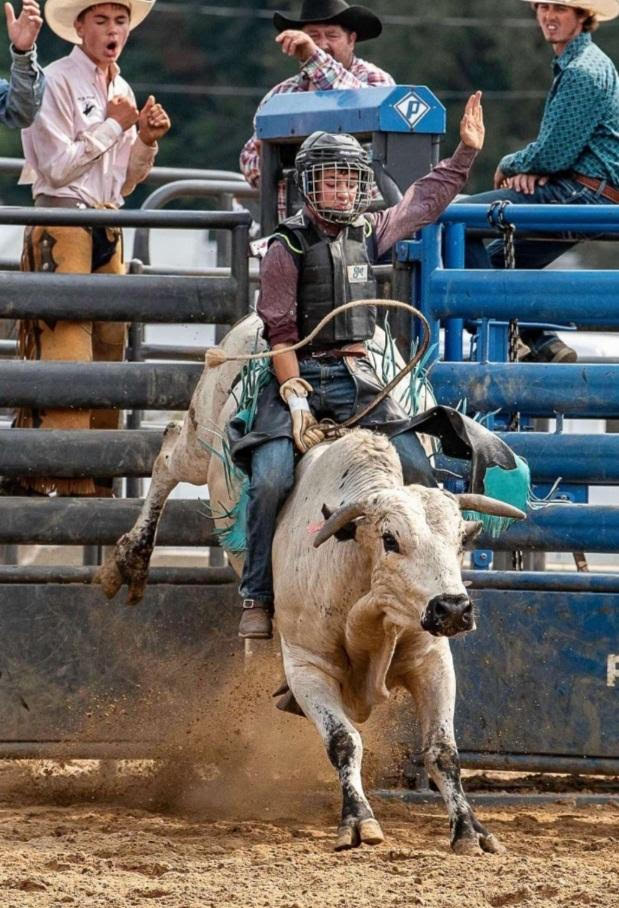 Bull Riding
Riding to be done with one hand and loose rope, with bell attached. Bull to be ridden eight seconds. Rider will be disqualified for being bucked off or touching animal with free hand.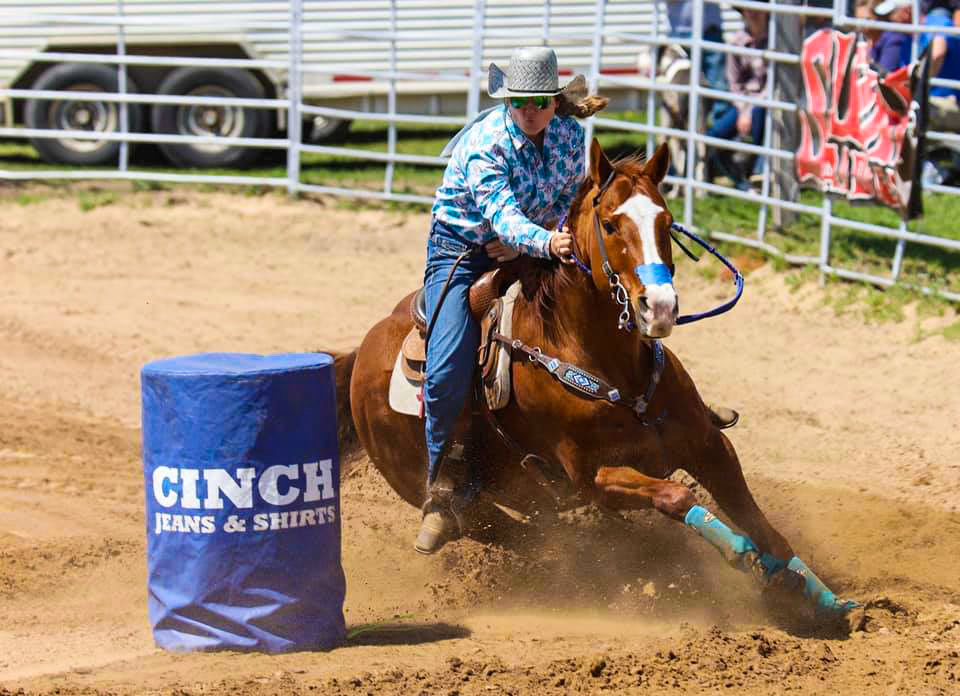 Barrel Racing
Contestant is allowed running start; time begins as soon as the horse's nose reaches the starting line and is stopped when horse's nose crosses the finish line. Contestant must run barrels in cloverleaf pattern, starting at either side.
B&W Metal Works
Bennett Farms
Bill & Deb Whiting
Billy & Barbie VanPortfliet
Breezy Day Ranch
Buck & Jacky Martin
Chrissy & Sam Silverman
Clancy's Fancy Hot Sauce
Class of 2021/Taylor Harkness
Cow Camp Rodeo 150
Coyote Creek Stables
Culligan of West Branch
D&M Supply Meihls Mechanical
Dave & Gail Firman
Dave Williams
Deb Stults
DeLew Lumber
Dick Smith
Diebold Inc. Co
Gilliland H&C Wild Rags
Gilliland Horse & Cattle
Grwzesak Farms
H20 – Bob & Pam Santure
Hanish Woodworks, Inc.
Hughston Livestock Trucking
Huron Car Care
In Honor of Tay & Vegas- Mike & Patty Saur
Jerry & Patty Cline
Jiffy
JPG Trucking
Kelly Ruckle/Dairyland Seed
Kennedy Excavating
Kenny Ery
Kimmies Pub & Grub
Lauria's Hardware
L'Bri with Jordan Jackson
Legacy Labor
Lighthouse Bookeeping & Tax Service
Lynch's Trucking
Marie Crowley Foundation
Mark & Keri Erfmyer
McClure's Pickles
Midwest Punch
Mike & Becky Huver
Millbrook Tack
Muxlow Bucking Bulls
Nagy's Tractor Sales
New Relections II Tawas
Nugent Builders
Pat Bennett
Pointer Hill Saddlery
ProEdge Arena – Earl, Carie & Strand Proctor
Rainbow Gardens
Riverside Western Supply
Ron Bjork Horseshoeing
Ryan Dairy Farm
S&S Mechanical
Saykllys Candies
Schmidt Tire
Scott Cattle Corner
Shefit
Shernies Candies
Shirleys Chuckwagon
Slippery F Ranch
Sparta Chevy & Trailer Sales
Sportsman Lounge & Restraunt JCAP Inc.
Stein Milk Hauling & Hoof Care
Stephenson & Co West Branch
Steve Tire
Stormy Kromer Cap
Sundance Buick GMC
Tawas Ace Hardware
Terry & Dawn Bordner
The Andis Family
The Griffin Family
The Harkness Family
The Hoard Family
The Huver Family
The Michigan Mompreneaur-Jordan Jackson
The Neukom Family
The Price Family
The Purple Spur
The Scarlavai Family
The Sportsmans Bar of Twining
Title Assurance Group
Tom's Western Store
Total Feeds- Kennedy Ranch
Tri-Donn Construction
Tri-Pine Tack
Triple J Gutters & Metal Roofing
Twisted P Rodeo Company
Twisted Wrench Field Svc
Willards Equipment
Winzeler & Bok Ltd
WRL Daniels Farm LLC
Your Auctioneers
Straight From the Arena Dirt
Rugged to Classy
What is all of the training, late study nights, blood and sweat for? To be able to dress up and have a Cowboy Prom of course.
High School Rodeo Shooting Sports
The NHSRA established shooting sports as part of the events scheduled for the National Finals Rodeo(s) in 2005 in partnership with the NRA (National Rifle Association). Since inception, the program has welcomed an increase in the number of competitors for these events thereby validating the need for clarification of terms, procedure and general rules for each discipline offered.
The purpose of the program is to introduce and recruit NHSRA members into shooting sports programs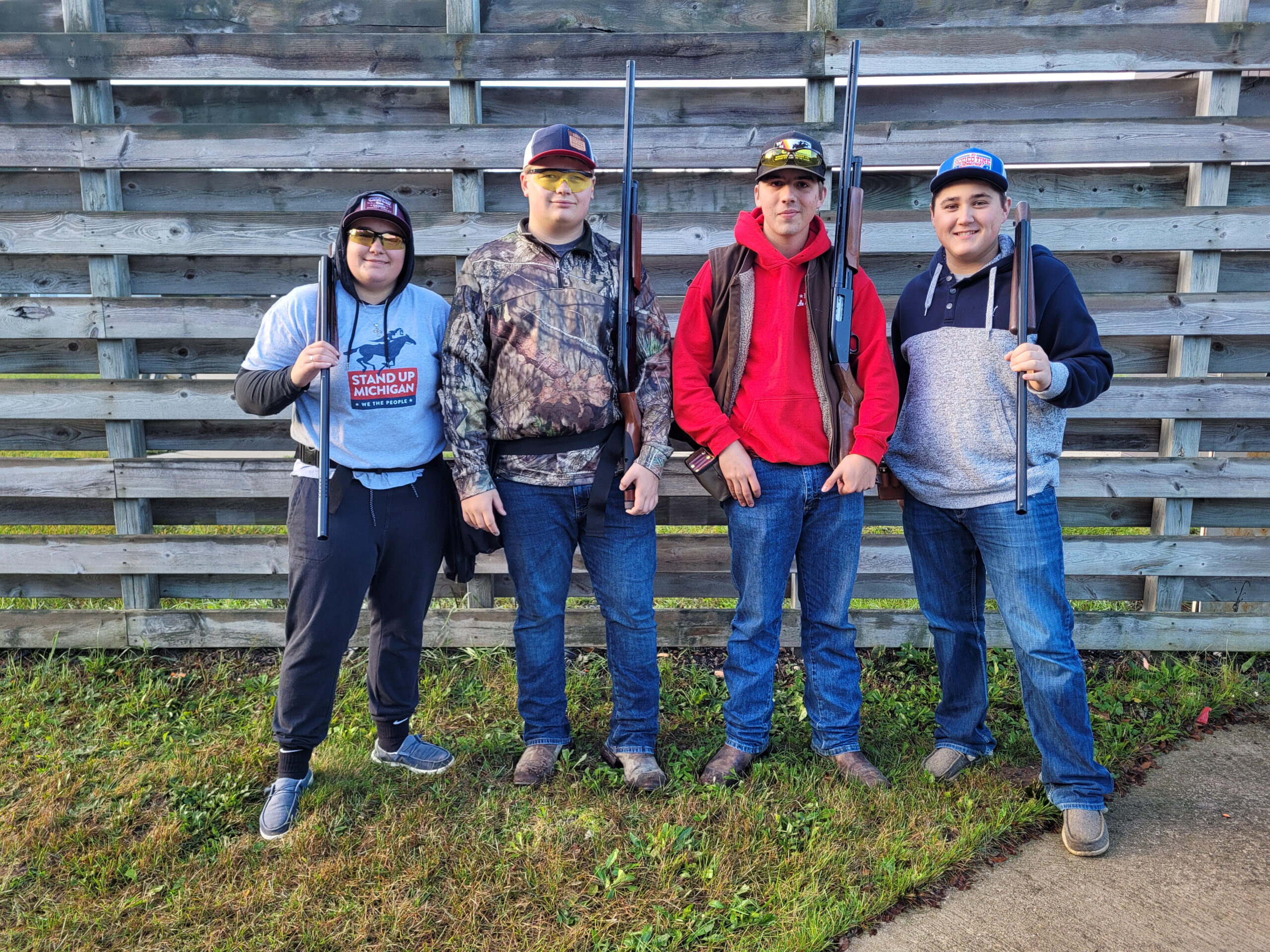 Rifles
Any .22 caliber rimfire .22 short, .22 long, or .22 long rifle.

Ammunition
Rimfire cartridges commercially catalogued as the ".22 Short, ".22 Long, or ".22 Long Rifle.

Shotguns
Youth or adult size 20, 16 or 12-gauge shotguns may be used.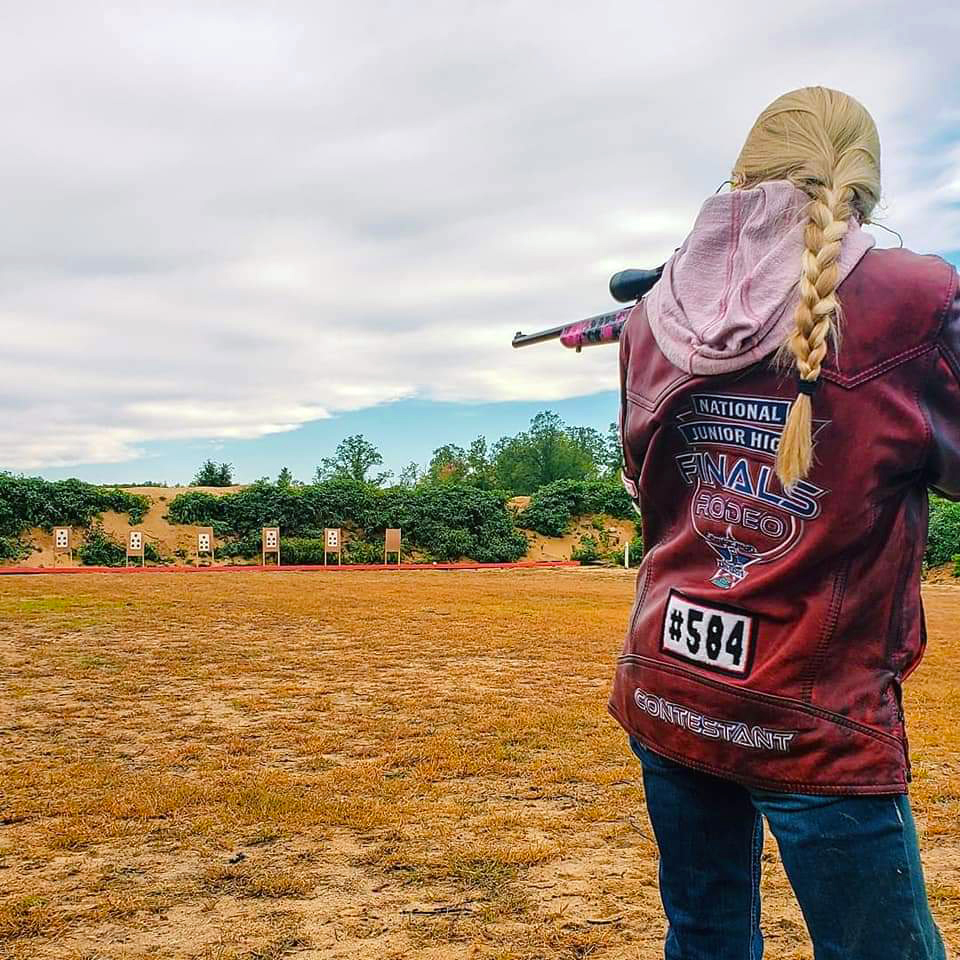 With respect to shooting sports, each state, province or country interested in forming shooting sports teams must appoint or elect a Shooting Sports Coordinator.
Must be 21 years of age or older
NRA certified instructor for one or both disciplines offered in the NHSRA isrecommended
Current NRA Range Safety Officer certification is recommended
Teamwork
There is no comparision to the support given and received within the family of rodeo.
Celebrate
Take a break to recognize hurdles, triumphs and friendships.
Making Memories
These are the days we develop ourselves into who we will become.